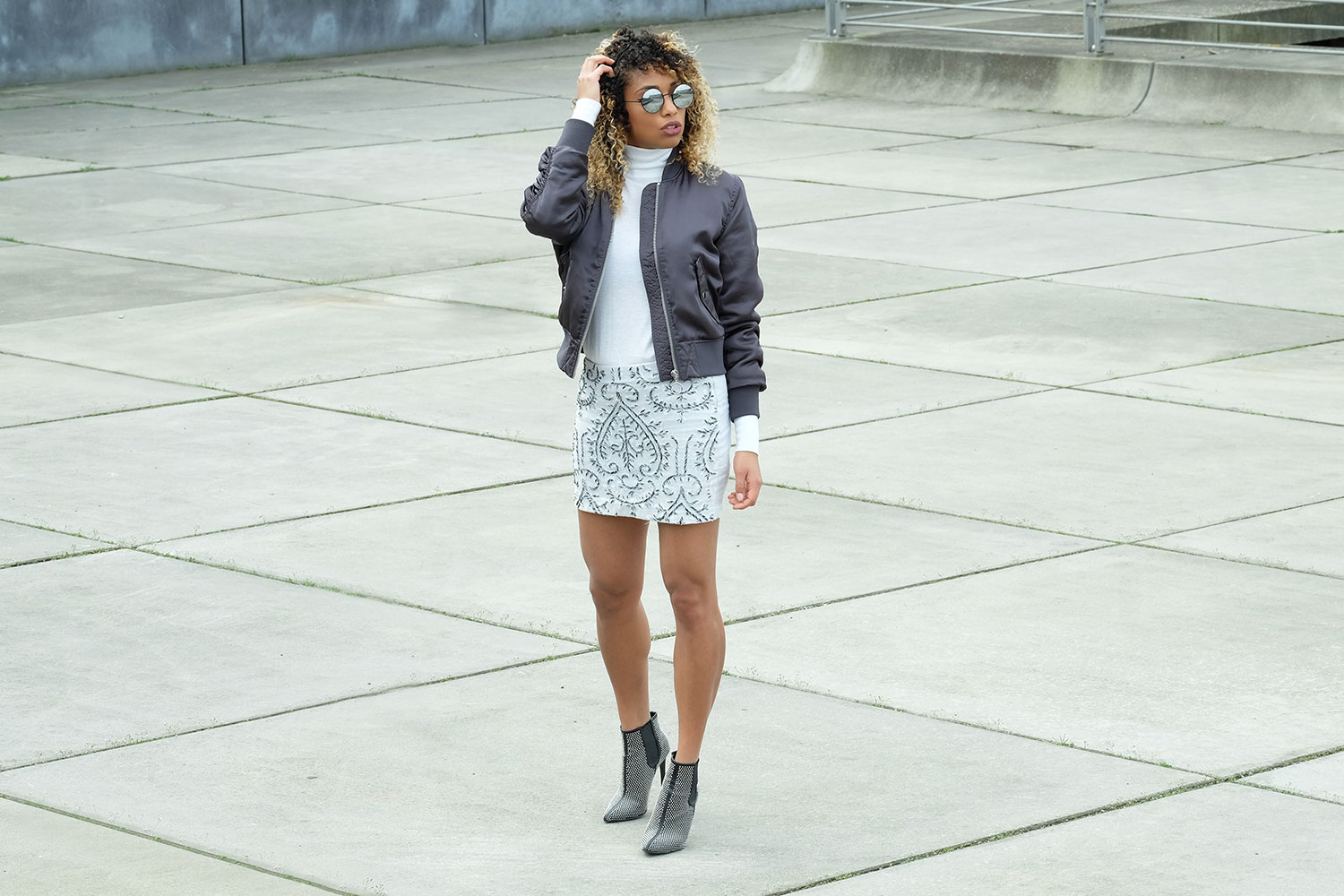 Der Bikerlook ist klar definiert – Lederjacke, All-black and Biker Boots. Doch die Mode entwickelt sich weiter, genau wie wir. Heute zeige ich euch meine neue Variante des modern Biker Girl – sequins skirt and bomber jacket.
Die Bomberjacke hat die Lederjacke in den letzten Monaten abgelöst – wir mögen es einfach etwas schlichter und legerer. Wir sind viel sportlicher geworden und bauen immer wieder Casual Items in unsere Looks ein. Ich habe mich für eine sportlich, rockige Version entschieden. Und dem Look nicht den ganzen Biker Charm zu nehmen habe ich meine Nietenboots als Grundlage verwendet. Für das Mädchen in mir einen wenig Glitzer – ganz recht ein Paillettenrock und um es der heutigen Zeit anzupassen, alles mit einer Bomberjacke abgerundet. Was sagt ihr? Ist das der ideale Look für den Frühling. Ein Zusammenspiel drei aktueller Trends zu einem modernen Biker Look.
Love, curls
---
---
ENG// The biker look is clearly defined – leatherjacket, all-black and biker boots. But fashion continues to develop, just like us. Today I show you my new version of the modern biker girl – sequins skirt and bomber jacket.
The Bomberjacke has replaced the leatherjacket in the last months – we just like it a bit simpler and casual. We have become a lot more sporty and we are always adding casual items to our looks. And so I chose a sporty, rocking version. And for not taking the look the whole biker charm, I used my studded boots as a basis. For the little girl in me a bit glitter – quite a sequin skirt and to adapt it to the present day, all rounded off with a bomber jacket. What do you say? This is the ideal look for spring. A combination of three current trends into a modern biker look.
Love, curls
skirt – Mango (similar here)
boots – Zara (similar here)
sunnies – bought in Singapore (similar here)